Metal Roofing Contractors - Brampton
Vassa Metal Roofing was established over 20 years ago, and has been faithfully serving our Brampton area customers ever since. Our metal roofing company is entirely Canadian owned and operated, with headquarters in Ontario, Canada. Metal roofing is extremely resilient, and stands up to even the harshest weather conditions. The interlocking steel panels provide a weather-tight barrier against the elements. Vassa Metal Roofing provides complete installation, repair, and replacement services for metal roofing in and around Brampton, including commercial, residential, institutional, and agricultural applications.
Our professional and efficient metal roofing contractors aim to provide 100% customer satisfaction on every project we undertake. Brampton area clients can customize their metal roofing to their own personal tastes with our wide selection of roofing styles, colours, textures, finishes, and profiles. We offer top quality roofing from Gerard Roofing technologies in metal shake, metal shingle, metal tile, standing seam, and flat styles. All of our skilled roofers have the training and experience to meet our exacting standards for superior metal roofing installation in the Brampton region. At Vassa Metal Roofing all of our employees are bonded, licensed, and fully insured.
Metal Roofing Pictures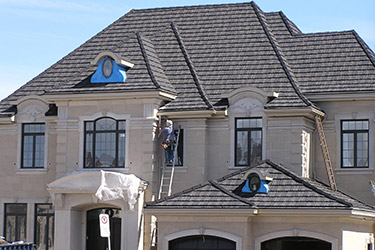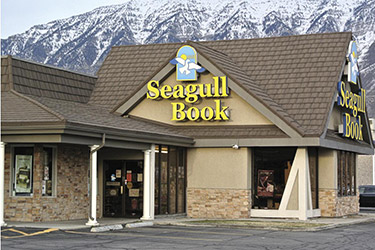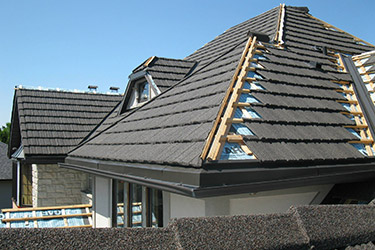 Residential Metal Roofing
Investing in residential metal roofing can significantly reduce your home energy bills, while improving your home's curb appeal and increasing its resale value. A metal roof may be the last roof you ever need. Our focus at Vassa Metal Roofing is on longevity, quality workmanship, and sustainability for our Brampton customers.
Following are some of the benefits of residential metal roofing:
We provide a 50 year warranty on your new metal roof.
Our metal roofing is resistant to mold, moss, stains, mildew, lichen and other micro-organisms.
Metal roofing can help you spend three times less on home heating and cooling.
Our roofing prevents mould growth in your insulation.
Metal roofing is fire resistant, moisture resistant, and wind resistant, which can reduce your home insurance rates.
Our product lasts a lifetime, leaving you with no maintenance or repair costs.
Metal roofing is 100% recyclable – this means that steel roofing is an environmentally conscious choice.
Steel roofing makes for an excellent long-term investment – overall lowest cost per annum coverage.
Metal roofing's attractive, high-end look and durability can increase your property value.
Steel roofs last much longer than other low-quality roofing alternatives like asphalt shingles.
Metal Roofing tends to be more light weight than other roofing, eliminating structural sagging.
At Vassa Metal Roofing we have earned ourselves a solid reputation for high quality residential metal roofing installations in the Brampton region, that are backed by a lifetime workmanship warranty. Your metal roof warranty is fully transferable and non-prorated.
Commercial Metal Roofing
Brampton's experienced roofing contractors at Vassa Metal Roofing offer expert commercial metal roofing installation for commercial agricultural, and industrial buildings, including barns, office buildings, apartment buildings, townhouse complexes, strip malls, retail outlets, churches, manufacturing facilities and more. Businesses choose commercial metal roofing because it is strong, durable, environmentally responsible, and energy efficient. Our commercial metal roofing is proven to be maintenance free, sustainable, and durable enough to hold up against the elements, including high winds, hail, fire, and even lightning. At Vassa Metal Roofing we back every commercial metal roofing project with our 50 year, fully transferrable, non-pro-rated warranty.
Steel Roofing
When you choose steel roofing, the durability, strength, and versatility of a stone coated steel roof is combined with the beauty of slate, tile, shakes, or shingles to highlight the style and architecture of your property. Our skilled roofing contractors provide expertly installed, top quality steel roofing solutions for both residential and commercial properties in the Brampton region. The luxurious look, proven durability, and environmentally sustainable nature of steel roofing make it an excellent option for your property. Call us to have the experts at Vassa Metal Roofing demonstrate the many benefits of stone coated steel roofing for your business or home.
Metal Roofing Testimonials
---
Work is good and looks great. They tell you what is going on and roughly how long it will take. They also work weekends to get the job complete with the least inconvenience to the people living in the home/building. They also clean up everyday which was a great plus.
Thanks,

Kitchener, Ontario
---


Michel Alder - Toronto, Ontario
150 year old farm house with a sagging roof and multiple old layers of asphalt tiles. Tony and his crew did a heroic job, resulting in a beautiful new steel tile roof.
---
Brampton area customers can contact Vassa Metal roofing through email, by phone, or through our online response form for more information on the products and services which we offer. We will gladly provide you with a complimentary estimate for your metal roofing project. At Vassa Metal Roofing we provide service to the following cities, as well as the nearby communities: Oakville, Etobicoke, Mississauga, Milton, Brampton, and Burlington. We look forward to hearing from you.
Brampton, Ontario Fun Facts
Brampton has a population of 593,650.
Brampton was once known as "The Flower Town of Canada", due to its large greenhouse industry.
The city was named after the market town of Brampton located in Cumbria, England.
Brampton's neighbouring cities:
Mississauga, Toronto, Richmond Hill, Etobicoke, Oakville, Burlington, Milton, Orangeville, and Newmarket.