Metal Roofing Contractors - Burlington
Vassa Metal Roofing was established in 1998 by owner and operator, Tony Kavai. Our metal roofing company is entirely Canadian owned and operated, with headquarters in Ontario, Canada. Metal roofing is renowned for it's longevity, strength, and beauty. Many Burlington residents choose metal roofs over other materials knowing it is proven to be maintenance free, environmentally sustainable, and durable enough to hold up against the elements, including high winds, lightning, hail, and even fire. At Vassa Metal Roofing we provide services for residential, agricultural, commercial, and institutional installation of metal roofing, as well as replacement and repairs.
Our efficient team of metal roofing contractors and installers are committed to maintaining the highest quality in materials and workmanship on every job. We work with top quality metal roofing products from Gerard Roofing Technologies to ensure maximum performance and durability. Our Burlington customers can choose from metal shake, shingle, or tile styles in an assortment of finishes and profiles, as well as standing seam metal roofing. All of our skilled roofers have the training and experience to meet our exacting standards for superior metal roofing installation in the Burlington region. All of our employees are bonded and fully insured.
Metal Roofing Pictures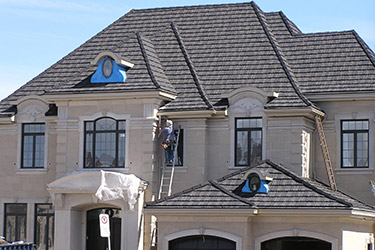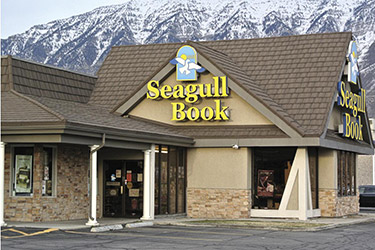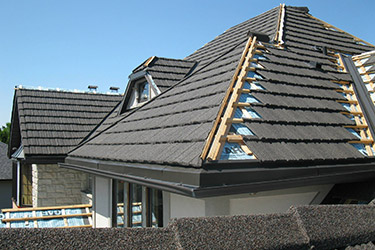 Residential Metal Roofing
Installation of new residential metal roofing can increase your home's curb appeal and the overall value of your home, while decreasing your monthly energy costs. Vassa Metal Roofing offers a vast assortment of colours, styles, finishes, and profiles to best suit your Burlington area home's architectural design and your personal tastes.
Following are some of the benefits of residential metal roofing:
Metal roofing can help you spend three times less on home heating and cooling.
Our roofing prevents mould growth in your insulation.
Metal roofing's attractive, high-end look and durability can increase your property value.
Metal roofing is fire resistant, moisture resistant, and wind resistant, which can reduce your home insurance rates.
Our product lasts a lifetime, leaving you with no maintenance or repair costs.
Metal roofing is 100% recyclable – this means that steel roofing is an environmentally conscious choice.
We provide a 50 year warranty on your new metal roof.
Metal Roofing tends to be more light weight than other roofing, eliminating structural sagging.
Steel roofing makes for an excellent long-term investment – overall lowest cost per annum coverage.
Our metal roofing is resistant to mold, moss, stains, mildew, lichen and other micro-organisms.
Steel roofs last much longer than other low-quality roofing alternatives like asphalt shingles.
At Vassa Metal Roofing we have earned ourselves a solid reputation for high quality residential metal roofing installations in the Burlington region, that are backed by a lifetime workmanship warranty. Your metal roof warranty is fully transferable and non-prorated.
Commercial Metal Roofing
At Vassa Metal Roofing, our expert roofing contractors provide commercial metal roofing in the Burlington area for retail locations, office buildings, strip malls, community centers, churches, townhouse complexes, farm buildings, barns, apartment buildings, restaurants, production and manufacturing facilities, and more. The energy efficient nature, longevity, and strength of commercial metal roofing make it an increasingly popular choice for businesses. Our commercial metal roofing is proven to be maintenance free, sustainable, and durable enough to hold up against the elements, including high winds, hail, fire, and even lightning. Vassa Metal Roofing backs every roof with a limited lifetime warranty, making it the perfect solution for your commercial roofing needs.
Steel Roofing
Our quality steel roofing products offer the long-lasting strength of steel, while complimenting the architecture and style of your home with the high end look of metal shakes, tiles, shingles, or slate. Our steel roofing contractors have expert training and extensive experience in the installation of top quality steel roofing systems in the Burlington area. Steel roofing requires very little maintenance, is environmentally sustainable and recyclable, and lasts as long as 50 years. For further information on the benefits of our outstanding stone coated steel roofing systems, call the professionals at Vassa Metal Roofing.
Metal Roofing Testimonials
---


Ken A. - Toronto, Ontario
We were quite happy with the quoting process with "Vassa Metal Roofing", it was well documented and detailed. Tony made a point of explaining the process clearly and letting us know when and how they were going to work on the project. The service was excellent and we knew that if we had any issues or complaints we would be contacted immediately.
---


Norma - Markham, Ontario
We were impressed with the quoting process when working with Vassa Metal Roofing. Tony along with the other staff is very committed and did a great job on our roof. Every time I drive up our driveway I am pleased with how beautiful our roof is.
---
Contact Burlington's trusted metal roofing contractors at Vassa Metal Roofing, and we will gladly provide you with a free estimate for your metal roof. Our roofing contractors can schedule an on-site visit where you will be provided with a free metal roofing quote for your property. Vassa Metal Roofing proudly serves Mississauga, Brampton, Etobicoke, Oakville, Milton, Burlington, and the surrounding areas. Let us know how we can serve you.
Fun Facts about Burlington, Ontario:
Burlington's climate is moderated by its proximity to Lake Ontario, resulting in milder winter temperatures than much of Ontario.
Burlington is located on the northwest shore of Lake Ontario.
Burlington was covered by a primeval forest before pioneer settlement in the 19th century.
Cities near Burlington include:
Hamilton, Ancaster, Milton, Dundas, Oakville, Mississauga, and Waterdown.