Metal Roofing Contractors - Mississauga
Established by owner and operator Tony Kavai, Vassa Metal Roofing has over 20 years of reliable service in the metal roofing business in the Mississauga region. Our metal roofing company is entirely Canadian owned and operated, with headquarters in Ontario, Canada. Vassa Metal Roofing offers the best metal roofing products and longest warranties available. Metal roofing is designed to withstand the harshest weather and last a lifetime. Vassa Metal Roofing provides complete installation, repair, and replacement services for metal roofing, including commercial, residential, institutional, and agricultural applications.
When it comes to hiring reputable metal roofing contractors, some important factors to be considered are reliability, craftsmanship, product quality, and commitment to excellence. At Vassa Metal Roofing we offer the highest quality metal shake roofing, metal tile roofing, steel roofing, and standing seam metal roofing manufactured by Gerard Metal Roofing Technologies. Our metal roofing products are available in various profiles, coatings, finishes, and textures. Our experienced roofers are highly trained, and have the necessary skills to provide our Mississauga area customers with precision metal roofing installations. All of our employees are bonded and fully insured.
Metal Roofing Pictures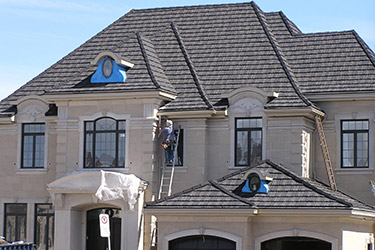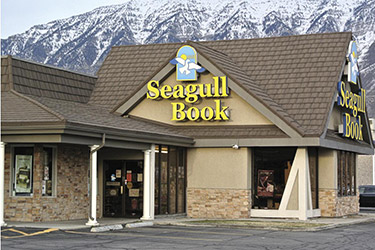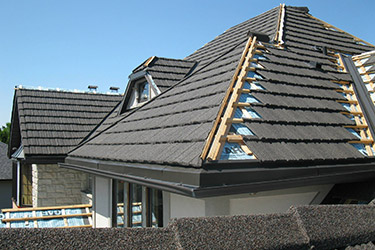 Residential Metal Roofing
Residential metal roofing has a high-end, distinctive look that makes your home stand out in your neighbourhood, and looks great for a lifetime. A metal roof may be the last roof you ever need. Our focus at Vassa Metal Roofing is on longevity, quality workmanship, and sustainability for our Mississauga customers. The benefits of residential metal roofing include:
Metal roofs are 100% recyclable making steel roofing an environmentally responsible choice.
We provide a 50 year warranty on your new roof.
Metal roofing's attractive, high-end look and durability can increase your property value.
Metal roofing is fire resistant, moisture resistant, and wind resistant, which can reduce your home insurance rates.
Our metal roofing is resistant to stains, mildew, mold, moss, lichen and other micro-organisms.
Metal roofing can help you spend three times less on home heating and cooling.
Our product lasts a lifetime, leaving you with no maintenance or repair costs.
Steel roofing makes for an excellent long-term investment – overall lowest cost per annum coverage.
Metal Roofing tends to be more light weight than other roofing, eliminating structural sagging.
Our roofing prevents mould growth in your insulation.
Steel roofs last much longer than other low-quality roofing alternatives like asphalt shingles. Our superior quality residential metal roofing offers unmatched durability, lasting 2 to 3 times longer than standard asphalt shingles commonly used in the Mississauga region, while our extensive product warranties protect your investment.
Commercial Metal Roofing
Vassa Metal Roofing provides superior metal roofing for commercial industrial, agricultural, and institutional buildings such as retail stores, strip malls, shopping plazas, office buildings, apartment complexes, farm buildings, churches, temples, mosques, and more in the Mississauga region. Commercial metal roofing's increasing popularity is due to its energy efficiency, durability, strength, and the fact that it is an environmentally responsible option. Our professional installation of commercial metal roofing ensures a high performance, long lasting, worry-free, roof that is correctly installed the first time. Vassa Metal Roofing backs every roof with a limited lifetime warranty, making it the perfect solution for your commercial roofing needs.
Steel Roofing
Steel roofing combines the strength, versatility, and durability of stone coated steel with the visually appealing look of slate, shakes, shingles, or tiles. Our skilled roofing contractors provide expertly installed, top quality steel roofing solutions for both residential and commercial properties in the Mississauga region. Steel roofing is an environmentally sustainable product which offers extreme durability, longevity, and resists even the harshest of weather conditions. Call us to have the experts at Vassa Metal Roofing demonstrate the many benefits of stone coated steel roofing for your business or home.
Metal Roofing Testimonials
---


Hoda - Niagara On The Lake, Ontario
Very professional! Very happy with their job! Always on time! Def recommend this company for every body!
---


Charles - Rockton, Ontario
Tony and his crew did a wonderful job on reroofing our home that had quite a lot of different angles on the roof also there was a soft spot that was caused by rafter that had bit of rot that tony repaired. They were very professional and courteous. We have had quite a few comments on how great the roof looks.
---
For more information on any of the metal roofing services we provide throughout the Mississauga area, please contact Vassa Metal Roofing by email or phone, or by filling out our convenient online contact form. Our roofing contractors can schedule an on-site visit where you will be provided with a free metal roofing quote for your property. Our service areas include Brampton, Milton, Mississauga, Etobicoke, Burlington, and Oakville. Let us know how we can serve you.
Mississauga Trivia:
On November 10, 1979, a 106-car freight train derailed on the CP rail line in Mississauga while carrying explosive and poisonous chemicals, leading to the evacuation of 218 000 people.
The city of Mississauga has a population of 758,000.
Mississauga boasts one of the largest shopping malls in Canada - Square One Shopping Centre.
Other cities near Mississauga, Ontario:
Brampton, Etobicoke, Toronto, Oakville, Milton, Burlington, and Richmond Hill.